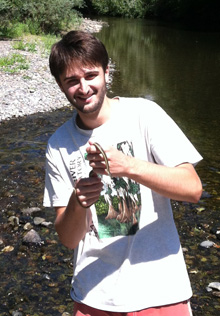 About Evan
Evan completed his doctorate at UC Davis in the Todd lab in December 2016. His work explored differential susceptibility among amphibian hosts to chytridiomycosis, a disease caused by a fungal pathogen that has been implicated in worldwide amphibian declines. His dissertation research used gene expression studies (transcriptomics) to examine potential mechanisms at work following infection by the fungal pathogen in two closely related amphibian host species that differ dramatically in their susceptbility. His academic interests include amphibian conservation, disease ecology, and statistical computing. While pursuing his PhD in ecology, Evan maintained a connection with the humanistic disciplines, leading a seminar on conservation philosophy and working as a teaching assistant for The Department of Religious Studies.
Before coming to Davis, Evan graduated with honors from Davidson College with a B.S. in biology. As an undergraduate, he was a member of the Davidson College Herpetology Laboratory and assisted with data collection for long-term studies on diamondback terrapins and stream-dwelling salamanders in addition to participating in educational outreach programs. He served as lead investigator on an independent research project on pond turtle populations, and his honors thesis work examined the impacts of damming on anurans inhabiting riparian zones in the Piedmont region of South Carolina. Evan also participated in an NSF REU program in Costa Rica conducting research in tropical habitats.
Evan is currently a postdoctoral research associate with the EcoHealth Alliance in New York.
Examples of recent publications
Eskew EA, Worth SJ, Foley JE, Todd BD. 2015. American bullfrogs (Lithobates catesbeianus) resist infection by multiple isolates of Batrachochytrium dendrobatidis, including one implicated in wild mass mortality. EcoHealth. doi:10.1007/s10393-015-1035-2.
Eskew EA, Todd BD. 2013. Parallels in amphibian and bat declines from pathogenic fungi. Emerging Infectious Diseases 19(3):379-385.
Eskew EA, Price SJ, Dorcas ME. 2012. Effects of river-flow regulation on anuran occupancy and abundance in riparian zones. Conservation Biology 26(3):504-512.