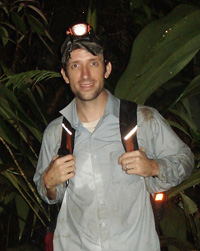 About Justin
Justin earned a B.S. in Forest Resources from the University of Georgia and a Ph.D. in Biological Sciences from Florida International University. His research is broadly focused on conservation biology and the maintenance of biodiversity in human-altered landscapes. He has collaborated with undergraduates, graduate students, and senior researchers on work in the southeastern US and Costa Rica, with emphasis on amphibian assemblages. Of the processes that influence diversity, he is particularly interested in animal movement and factors that may determine rates of dispersal and gene flow in altered landscapes (e.g., migrant survival and individual behavior). For his dissertation work, Justin studied the influence of prevalent land uses on connectivity and diversity of amphibians in forest remnants in Sarapiquí, Costa Rica.
Justin's work in the Todd lab is focused on spatial analyses of threats to Desert Tortoise populations and global-scale analyses of amphibian and reptile responses to anthropogenic pressures.
Examples of recent publications
*denotes undergraduate student collaborators
Nowakowski AJ, Thompson M, Donnelly MA, Todd BD. In Press. Amphibian sensitivity to habitat loss is associated with population trends and species traits. Global Ecology and Biogeography, forthcoming..
Nowakowski AJ, Watling JI, Whitfield SM, Todd BD, Kurz DJ*, Donnelly MA. In Press. Tropical amphibians in shifting thermal landscapes under land use and climate change. Conservation Biology, forthcoming.
Nowakowski AJ, Whitfield SM, Eskew EA, Thompson ME, Rose JP, Caraballo BL, Kerby JL, Donnelly MA, Todd BD. 2016. Infection risk decreases with increasing mismatch in host and pathogen environmental tolerances. Ecology Letters 19:1051-1061.
Nowakowski AJ, Veiman-Echeverría M, Kurz DJ*, Donnelly MA. 2015. Evaluating connectivity for tropical amphibians using empirically-derived resistance surfaces. Ecological Applications 25:928-942.
Nowakowski AJ, DeWoody JA, Fagan M, Willoughby JR, Donnelly MA. 2015. Mechanistic insights into landscape genetic structure of two tropical amphibians using field-derived resistance surfaces. Molecular Ecology 24:580-595.
Kurz DJ*, Nowakowski AJ, Tingley M, Donnelly MA, Wilcove D. 2014. Forest-land use complementarity modifies community structure of a tropical herpetofauna. Biological Conservation 170:246-255.
Nowakowski AJ, Otero B*, Allen M*, Diez-Escobar M*, Donnelly MA. 2013. Landscape resistance to movement of the poison frog, Oophaga pumilio, in the lowlands of northeastern Costa Rica. Animal Conservation 16:188-197.