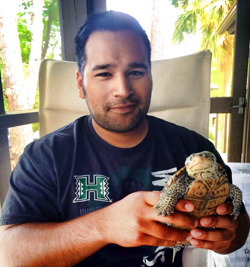 About Mickey
Mickey graduated from University of Redlands with a BS in Environmental Management in 2011. Following graduation, he served as a wildlife biologist for US Geological Survey and assisted with long-term research on threatened desert tortoises at a wind energy facility in Palm Springs, CA. After 3 years with USGS he attended University of Kentucky, where he completed an MS in Forestry (emphasis – wildlife ecology). His master's thesis included three main chapters on desert tortoises: (1) The effect of research activities and winter precipitation on voiding behavior, (2) Using motion-sensor camera technology to infer seasonal activity and thermal niche, and (3) Variation in survivorship between a wind energy facility and a designated wilderness area in the desert southwest.
Mickey is currently attending UC Davis to pursue his PhD in Ecology. Currently he is conducting research on Western pond turtles in Suisun marsh - a brackish tidal marsh in the San Francisco Bay-Delta estuary ecosystem. He is interested in wetland ecology and conservation, and better understanding population dynamics, movement, and general response of reptiles to habitat disturbance and salinity variation. Please visit the following website for more information: http://suisunmarshturtleecology.weebly.com
Examples of recent publications
Agha M, et al. in press. Mass mortality of eastern box turtles with upper respiratory disease following atypical cold weather. Diseases of Aquatic Organisms.
Agha M, et al. in press. Mammalian mesocarnivore visitation at tortoise burrows in a wind farm. Journal of Wildlife Management.
Ennen JR, Lovich JE, Averill-Murray RC, Yackulic C, Agha M, Loughran C, Tennant L, Sinervo B. In press. The Evolution of Different Maternal Investment Strategies in Two Closely Related Desert Vertebrates. Ecology and Evolution.
Ennen JR, Matamoros W, Agha M, Lovich JE, Sweat SC, Hoagstrom CW. In press. Hierarchical, Quantitative Biogeographic Provinces for All North American Turtles and Their Contribution to the Biogeography of Turtles and the Continent. Herpetological Monographs.