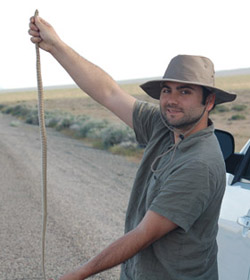 About Oliver
Oliver received his B.S. in Wildlife Management from Humboldt State University. He has worked for the US Fish and Widlife Service and other agencies for several years as a wildlife biologist. His past work experience includes studies on Mojave desert tortoises, western pond turtles, foothill yellow-legged frogs, and Chinook Salmon.
Oliver's work in the Todd lab focused on natural history surveys for rare reptile and amphibian species in western Nevada on land administered by the Department of the Navy. His work there has been key in helping assess the diversity and distribution of secretive species so that land managers and biologists can address them in comprehensive management plans.
Oliver currently works as a biological consultant in southern California.