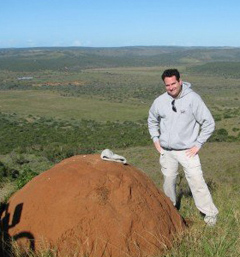 About Aaron
Aaron earned both his B.S. (1998) and M.S. (2002) in Wildlife Biology from Humboldt State University in Arcata, California. He earned a Ph.D. (2011) in Applied Ecology from the University of Nebraska-Lincoln. In Nebraska, he established a program to monitor populations of amphibians in Nebraska's Rainwater Basin wetland complex in order to detect changes in presence in this region over time. The acquired data provided inferential insight into observer bias in anuran call surveys. Aaron also conducted a series of empirical analyses to determine the distribution of functional groups within and across scales and the association of measures of biotic variability in vertebrates (e.g., invasions, extinctions) with discontinuities in body mass distributions.
Aaron worked with Dr. Todd and staff at the California Department of Fish and Game to help develop a conservation/management plan for the reptiles and amphibians of California. He is particularly interested in herpetology, endangered species conservation, invasive species management, cross-scale ecosystem resilience, functional diversity, and functional redundancy.
Examples of recent publications
Lotz A, Allen CR. 2007. Observer bias in anuran call surveys. Journal of Wildlife Management 71(2):675-679.