Western Pond Turtle Conservation and the Impact of Non-native Turtles
Background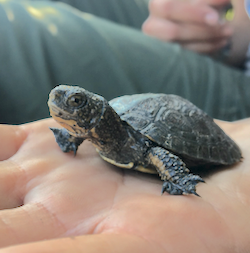 UC Davis is located in northern California in the town of Davis for which it is named. With a population of >68,000 people, student enrollment has reached almost 40,000. Known for its emphasis on parks and green spaces, the city and university campus boast a 5,300-acre arboretum and public garden that allows students and the community to explore its naturalized landscape for recreation, relaxation, and science education. Hidden in this manicured landscape and popular attraction is a grim, yet common storyline: non-native and introduced species wreak havoc on native species and disrupt healthy ecosystem function.
The Western Pond Turtle (Actinemys marmorata)—California's only native freshwater turtle—is a species of conservation concern that is seeing notable declines across its range along the Pacific Coast of the US. The introduction of non-native turtles popular in the pet and food trade, like Red-Eared Sliders (Trachemys scripta elegans), contribute to these declines and disrupt native ecosystems. In the waters of the UC Davis Arboretum, Red-Eared Sliders fill a very similar role to that of Western Pond Turtles, but the sliders displace native pond turtles and reach exceptionally high densities. Nearby, in the South Fork of Putah Creek, Western Pond Turtle populations appear more stable, with Red-Eared Sliders at much lower densities or absent altogether.
Knowing how non-native species affect native ones is critical for figuring out how to restore populations of declining native species. In 2011, an earlier study removed many Red-Eared Sliders from the Arboretum, but over the years, the Red-Eared Sliders have regained their high densities and now clog the Arboretum waterways again. At the same time, our hometown hero—the Western Pond Turtle—seems as scarce as ever.
It's not clear when and how Red-Eared Sliders were first introduced to the Arboretum, but a quick look shows it is available at a local pet store with frequent turnover in turtles for sale. Combined with reports and observations of students releasing pet turtles into the waterways when they move out of their dorms each June—an act that is illegal and punishable with stiff fines— it's not hard to imagine the source of their introductions. Many people are unprepared to care for an animal that can live up to 30-40 years, grows pretty large, and generally has a grumpy disposition. Our study may show the value of native species conservation and can serve as an educational tool highlighting why pets should not be released into the wild.
Objectives
This research has a few major objectives:
Determine the abundance and demography of Western pond turtles and non-native turtles in the Arboretum and the South Fork of Putah Creek,
Determine the impact of Red-Eared Sliders on native Western Pond Turtles,
Determine how Western Pond Turtles respond to the removal of Red-Eared Sliders,
Minimize the re-establishment of non-native turtles in the Arboretum with an educational outreach campaign.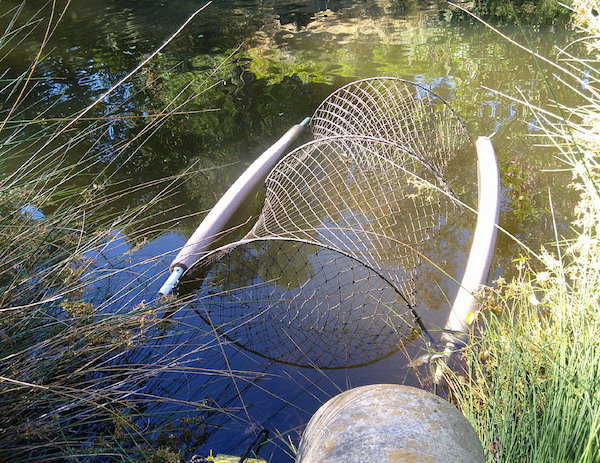 Methods
To accomplish these objectives, we place large hoop nets and funnel traps in the UC Davis Arboretum waterway and the South Fork of Putah Creek. These traps are used to capture all kinds of freshwater turtles around the world and are a vital tool for the study and population monitoring of turtles. These traps harmlessly capture the live turtles and we check them multiple times a day when they are in use. When we remove each turtle from a net, we measure its size, give it a health inspection, and we mark each native pond turtle with a unique ID code before it is released. Non-native turtles are removed from the waterways so they do not cause further harm to native species. The marks we give native turtles are created by gently filing a notch into the edge of their shells and use a unique numbering system to help us identify each turtle over the years; it's a bit like filing your fingernails except a turtle's shell grows much slower than your fingernails. The marks are harmless and do not injure the turtle or affect its survival. Capturing and releasing the turtles unharmed— a method known as "capture-mark-recapture"—is useful for population monitoring over time and can provide information on changes in turtle growth and population.
All of the methods we use in this study are approved by campus veterinarian staff and reviewed for animal welfare concerns, are authorized by the state wildlife agency, and are performed by trained personnel. Signs describing the project are posted around the Arboretum and Putah Creek. Please do not disturb the traps, signs, or any equipment that you encounter. Traps are checked frequently and regularly to ensure animal welfare. If you notice anything out of the ordinary or have any concerns, feel free to email us with photos and location information by clicking here.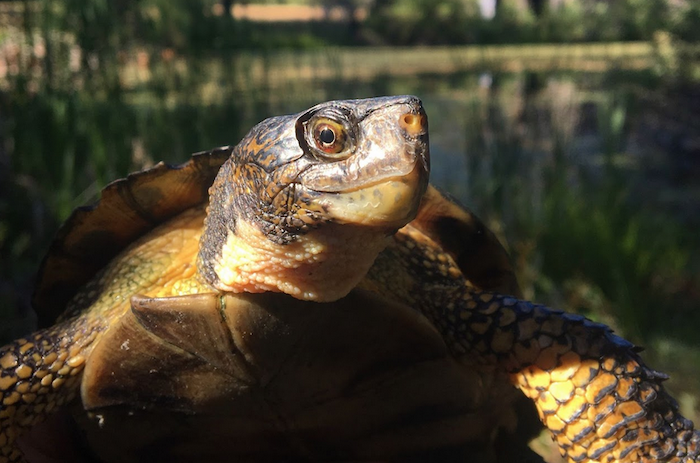 This project is done in collaboration with the UC Davis Arboretum and Public Garden, Putah Creek Campus Reserve, and the Department of Wildlife, Fish, and Conservation Biology. The Lloyd W. Swift Endowment provide support for undergraduate research experience and the Horodas Family Foundation for Conservation Research provides support for graduate student research.
Additional Links